Tyro Arts Association (TAA) is working on breaking the cultural isolation of the refugee camps (both Palestinians and Syrians) and the Lebanese marginalized areas, and also to initiate a women's empowerment project to help give them a role and voice to act. Based on that, PRISMA European Network nominates TAA for UNESCO-Sharjah Prize for Arab Culture.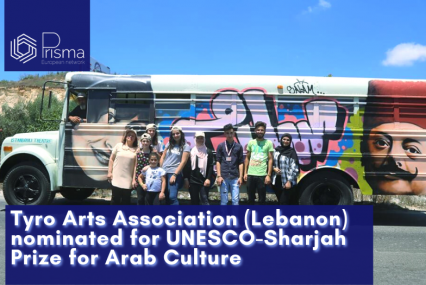 In addition to that, TAA implements various arts and environmental projects in the region, and last but not least, the Arab Culture and Arts Network that was initiated in 2020.
The Association has made use of workshops, training, festivals, and events to reach this purpose. To this end, TAA targets a variety of age groups starting from 7 years old. TAA beneficiaries include volunteers, schoolchildren and university students, families, as well as local and international artists. Among the activities in the mentioned projects are those that depend on providing free, independent platforms and cultural spaces for society.
TAA aims toward uniting the youth and refugees in the region through empowering them equally in organized workshops of different activities they choose. People of different nationalities learn to collaborate peacefully to finally come up with an art-related projection after many workshops and practice guided by professional trainers that work with the association. This stresses the fact that art is a right for everyone, and we can all enjoy it in peaceful ways. This is clearly shown in the artistic residencies organized by TAA for artists of different beliefs and backgrounds to gather and share their ideas and opinions. On different occasions, a group of girls from a Palestinian camp in Beirut, along with Tiro Theatrical group, performed their play named "Talaa" at the Lebanese National Festival. It resembled several notions of life that are slowly getting buried.
Lately, TAA has intensified their focus on the Women's Empowerment project, because women deserve to be heard and recognized just like any member of society. To start with, the association has opened the door for ladies and working women in the handicrafts field to show what they do in different festivals within the association. Exhibitions have been made to help them spread their work in open spaces as well. Old and young, women participate in workshops at TAA to teach the younger generation their crafts, including soap making accessories, clothes, traditional food and storing techniques, etc... On the other hand, the group is working on collecting stories of women in the neighborhood of Tyr, to showcase how these old women used to live, how they suffered, and what brought them here. All the history of Tyr is recorded by these interviewed women, and our duty is to hear their suffering and voices and record them ourselves, orally and in writing. The association is also working on providing a free space, with supporters, for women and girls to share their stories, as a relief, in safe circles given to them in TAA. Taking this into consideration, TAA implements gender-related activities and awareness programs to deliver the idea that people are all equal and capable. This notion is also emphasized in Tiro's radio program, where the group intentionally discussed the sexual harassment issue to defend women and raise awareness about this problem.
Regarding "Arts and Environment", the association since it was founded has been using open spaces to spread its message through mobile shows, where actors roam around villages in Lebanon in the "Peace Bus" to replay scenes and experiences told by the audience and let it dive to the eyes of all of the rest of the audience. Also, different works were performed in the streets by TAA (theatrical plays: Where Shall We Go? And dancing performances, rather than photography and handicrafts exhibitions). And since the environment is not to be forgotten, there is always a hand in campaigns that head toward cleaning the beach and the sea in the region, repainting the walls, teaching kids to save the environment by recycling and not polluting their surroundings. Tiro Association for Arts follows this by cleaning and classifying the old posters and collected items when rehabilitating the theatre, and putting them all in a small museum for visitors to enjoy and notice the glory of this ancient platform. Another activity that happens in open spaces are football competitions and theatre workshops in the streets besides the sea.
Since the beginning of the pandemic and the escalated Covid19 crisis, TAA has been searching for effective ways in order to reach its trainees and audience. Therefore, a whole strategy was implemented on this base through online activities where TAA can reach its beneficiaries and not let circumstances hold them back. Online activities including dancing, theatre, photography, drawing, storytelling, and script writing workshops were held online throughout that period, and of course, the festivals were streamed live and online. From this background, the idea of initiating the "Arab Cultural and Arts Network" crossed. In order to build a bridge of connection between artists in the Arab world, it was established in 2020 during the Corona pandemic crisis, on the initiative of cultural activists, with the aim of networking individuals and cultural and artistic institutions, for cultural solidarity as well as opening links and channels. ACAN won the World Summit for the Information Society among the top five projects in the world.